Grey double loop buckle slider which is made from metalised plastic (known as ABS). Looks and feels like metal but lighweight. Features a disc design around the rim (on one side only). Gunmetal grey finish.
Available in one size only –
Internal Width: 50mm
Full Diameter: 66mm
The grey double loop slider buckle can be used in a variety of ways such as strap fastener, dog collar harness, camping bag belt, suitcase, and backpack, etc. Can also be used for an embellishment for Purses, Handbags, Scarfs and all craft projects.
This is a useful step by step tutorial on how to use a scarf slider/buckle.
We stock a selection of grey sliders and buckles
---
Helpful Tips
Size refers to internal width i.e. the width of a strap or ribbon which will pass through the buckle.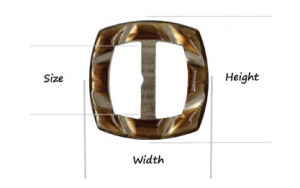 Only logged in customers who have purchased this product may leave a review.