Brown heel bar buckle made from nylon with a hollow back. Brown with a leather effect finish and faux stitching around the edge.
Size (internal width) 40mm
Dimensions: Width 68mm  x Height 80mm
From the pictures shown the color of the Brown heel bar buckle may be slightly different. How color shows up on your screen can be affected by many factors such as the age of your monitor. Even the type of graphics card used can make a difference.
Usually associated with belts, there are actually many uses and creative ways to incorporate heel bar buckles into fashion from shoes to bags.
We sell a variety of brown buckles
---
Helpful Tips
Size refers to internal width i.e. the width of a strap or ribbon which will pass through the buckle.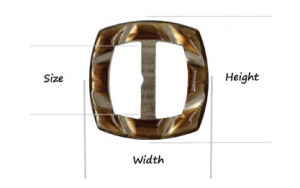 This tutorial shows you how to attach a heel bar buckle to a belt
Only logged in customers who have purchased this product may leave a review.