Gold waistcoat buckle made from mild steel with a nickel plating finish. Square in shape. Fixed centre bar with an additional adjustable bar with teeth to secure strap in place.
Available in one size only – internal width 19mm/20mm
Full Dimensions: Width 27mm x Length 28mm.
This buckle is the perfect size for the rear adjustment belt on a tailored waistcoat.
From the pictures shown the color of the gold waistcoat Buckle may be slightly different. How color shows up on your screen can be affected by many factors such as the age of your monitor. The type of graphics card used can also make a difference.
We also sell a similar buckle in Silver
---
Helpful Tips
Size refers to internal width i.e. the width of a strap or ribbon which will pass through the buckle.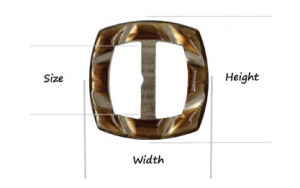 This YouTube tutorial shows you how to sew a waiscoat buckle
Only logged in customers who have purchased this product may leave a review.