Antique silver decorative slider buckle which bis oval in shape. Made from plastic.
Ideal for Belts, Ribbons and as Strap Adjusters. Can also be used as an embellishment for Purses, Handbags, Scarfs, and all craft projects.
Dimernsions:
Internal Width: 30mm
Width: 60mm
Height: 50mm
Depth: 5mm
We sell a variety of silver sliders and buckles
---
Helpful Tips
Size refers to internal width i.e. the width of a strap or ribbon which will pass through the buckle.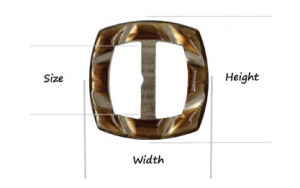 Only logged in customers who have purchased this product may leave a review.