Double loop heart sliders made from nylon. Rectangle in shape with a very slight curve. White glossy finish.
These Double loop heart sliders are only available in one size –
Size (internal width) 18mm
Dimensions 40mm x 32mm
Depth Tapers from 2mm to 4mm and back to 2mm
Sliders and Buckles are usually associated with belts, but there are actually many uses and creative ways to incorporate buckles into fashion from shoes to bags. Also ideal for special occasions to pass through ribbon and decorate.
We sell a variety of white sliders / buckles
---
Helpful Tips
Size refers to internal width i.e. the width of a strap or ribbon which will pass through the buckle.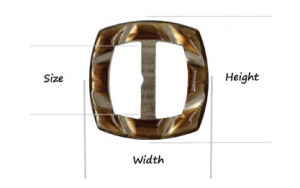 Only logged in customers who have purchased this product may leave a review.