Brass D Rings with a antique brass satin finish. Made from non-ferous (alloy) metal and not welded.  Rounded in shape, the bars have a width of approximately 2mm and are uniform throught the frame. Lightweight weighing approx.
These brass D-Rings are available in one size only:
20mm Internal Width: Dimensions: 25mm x 18m x 2mm
From the pictures shown the color of the split D rings may be slightly different. How color shows up on your screen can be affected by many factors such as the age of your monitor. Even the type of graphics card used can make a difference.
Shaped like a capital "D" and commonly used to temporarily connect a strap or strip of fabric or to make a strap adjustable. Excellent for haberdashery, saddlery and leather craft. Ideal for your bag making projects and for making belt buckles and collars for large or small animals.
We sell  a variety of  D-Rings
---
Helpful Tips
The size refers to internal width (the width of a strap or ribbon which will pass through the d-ring).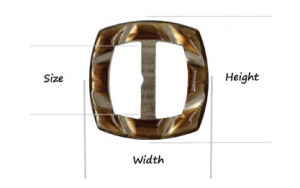 This YouTube tutorial shows you how to use D-Rings  to create a belt buckle, or, at the end of webbing to create a strap adjuster.
Only logged in customers who have purchased this product may leave a review.