Black O Ring Sliders which are circular in shape and made from plastic/nylon. The slider has a glossy finish.  The slider profile is thin with a depth of approx. 5mm
Available in two sizes only –
Size (Internal Width): 30mm Full Dimensions(edge to edge): 40mm
Size (Internal Width): 40mm Full Dimensions(edge to edge): 50mm
How color shows up on your screen can be affected by many factors including the age of your monitor as well as the type of graphics card being used. Consequently, from the pictures shown, the color of the slider may be slightly different.
Black O-Ring Sliders are ideal for special occassion themed projects like engagements and weddings. For example, you can pass through ribbon to embellish invitation cards and table placements. However, they are also perfect as an embellishment for fashion accessories  like Purses, Handbags, and Scarfs as well as tie backs for curtains.
We sell a variety of O ring sliders
---
Helpful Tips
The size refers to internal width (which is the width of a strap or ribbon which will pass through the o-ring slider).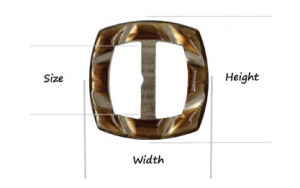 O-Ring and D-Ring sliders are commonly used at the end of webbing to create strap adjusters, and, to create belt buckles. This YouTube tutorial shows you how.
Only logged in customers who have purchased this product may leave a review.