Rhinestone studded metal slider buckle made from non-ferrous metal with a brass/copper finish. Oval in shape with a fixed centre bar.
The slider is available in one size only –
Size (internal width) 15mm
Dimensions: 29mm x 22mm x 1.5mm
From the pictures shown the color of the Rhinestone studded metal slider may be slightly different. How color shows up on your screen can be affected by many factors such as the age of your monitor. Even the type of graphics card used can make a difference.
Triglide sliders (also known as triglide buckles) are slide buckle strap adjusters that are ideal for lightweight applications and outdoor uses. The TriGlides grip webbing securely and work well in combination with other buckles as a means of securing loose webbing. Triglide Sliders, used as buckles, work by using friction to secure the material in place. While the strap is held in tension, friction prevents the materials from sliding through. However, once tension is removed, the materials can be manually fed up and through the slide allowing for adjustment or unfastening. Though mainly associated with belts, there are many uses and creative ways to incorporate sliders into fashion from shoes to bags. Also ideal for special occasions to pass through ribbon and decorate.
We sell a variety of silver sliders / buckles
---
Helpful Tips
Size refers to internal width i.e. the width of a strap or ribbon which will pass through the buckle.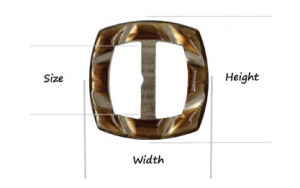 This YouTube tutorial shows you how to sew a tri bar strap adjuster 
Only logged in customers who have purchased this product may leave a review.