Rainbow slider buckle made from quality resin in Italy. Pink base with sky blue, orange, yellow, red and green stripes
Available in two sizes only –
Size (Internal Width): 10mm  Full Width 24mm
Size (Internal Width): 20mm Full width 40mm
The Rainbow slider buckle can be used in a variety of ways such as strap fastener, dog collar harness, camping bag belt, suitcase, and backpack, etc. Can also be used for an embellishment for Purses, Handbags, Scarfs and all craft projects.
We sell a variety of multi colour sliders
Size refers to internal width i.e. the width of a strap/ribbon which will pass through the slider buckle.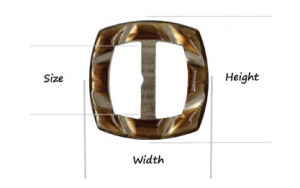 Double loop sliders and Tri Sliders are commonly used for making adjustable straps. This YouTube tutorial shows you how.
Only logged in customers who have purchased this product may leave a review.