Double D ring slider made from plastic resin. Brown with a feint marbling effect.
Size (Internal Width) 30mm
Dimensions 40mm x 45mm x 4mm
Ideal for Belts, Straps and Ribbons. Can also be used as an embellishment for Purses, Handbags, Scarfs, and all craft projects.
This is a useful step by step tutorial on how to use a scarf slider/buckle.
We stock a selection of brown sliders and buckles
---
Helpful Tips
Size refers to internal width i.e. the width of a strap or ribbon which will pass through the buckle.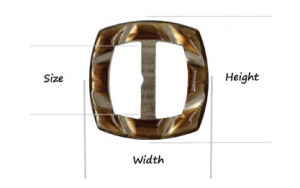 Only logged in customers who have purchased this product may leave a review.