Black clip buckles with side release – Side squeeze opening and clicks on closure.  They consist of high-grade plastic and flat in their working, so that they hardly protrude. The smooth surface ensures a high wearing comfort and also leads to a smooth guide for the straps.
These classically shaped clip buckles are the perfect fastener with easy length adjustment for rucksacks, suitcases and clothing such as work trousers or overalls.  Side release buckles are designed to slide open when pulled with a slight to moderate amount of force. This safety feature is ideal for pet collars and prevents the pet from getting stuck if their collar is snagged.
These black clip buckles are available in four sizes – Internal (Strap) Width 10mm 15mm 20mm and 25mm
Approximate Dimensions:
10mm – 30mm x 15mm x 5mm
15mm – 40mm x 23mm x 8mm
20mm – 46mm x 27mm x 9mm
25mm – 57mm x 35mm x 12mm
Sold single or in various pack quantities
Please see our full range of black buckles and sliders
---
Helpful Tips
Size refers to internal width i.e. the width of a strap or ribbon which will pass through the buckle.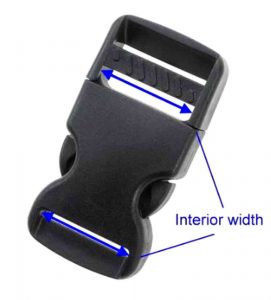 This tutorial shows you how to install a side release buckle
Only logged in customers who have purchased this product may leave a review.