50mm black buckle made by Prym. These classically shaped clip buckles are the perfect fastener with easy length adjustment for rucksacks, suitcases and clothing such as work trousers or overalls. They consist of high-grade plastic, are break proof and flat in their working, so that they hardly protrude. The smooth surface ensures a high wearing comfort and also leads to a smooth guide for the straps.
The 50mm Black Buckle measures 45mm x 45mm.
Available in one size only – internal (Strap) width 50mm.
Please see our full range of black buckles and sliders
---
Helpful Tips
Size refers to internal width i.e. the width of a strap or ribbon which will pass through the buckle.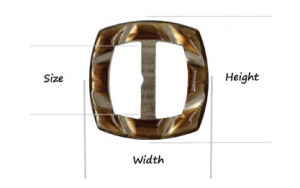 This YouTube tutorial shows you how to sew a centre bar buckle
Only logged in customers who have purchased this product may leave a review.